November 30, 2013
---
Many Vancouverites can breathe a big sigh of relief knowing this upcoming Wednesday, December 4, city council will vote whether to adopt a new heritage action plan to update Vancouver's heritage conservation program. Although, a potentially promising step in the right direction to protect our cities dwindling history, an article from the Vancouver Sun illustrates the doubt that true action will actually occur:
"City staff has put together a "Heritage Action Plan" to address many of the problems. Council will vote whether to adopt the 18-page report on Dec. 4. It is passes, Meggs said many of the recommendations will be acted on within the next year.
The report has 14 recommendations, ranging from simplifying the rezoning process for heritage buildings to increasing demolition fees for pre-1940 houses and extending the existing heritage incentive plans in the Downtown Eastside.
It also recommends that the city update its heritage register, an inventory of historic buildings that was compiled in the mid-1980s and enacted in 1986.
Don Luxton of Heritage Vancouver said the staff report "is all good stuff." But he cautions that if Vancouver wants to preserve heritage buildings, the city has to actually implement the recommendations, not just talk about them.
"Many of these tools are already available to the city, (but) they have to operationalize them, they have to make them work," said Luxton.
"One of the ways they're going to make them work is increased staff time, increased resources. They're going to have to put some more thought into incentives. But certainly, it's a really good start, and a really good direction."
Luxton has been urging the city to update the heritage register for years.
"Three times this has been on the books and taken off," he said. "This is the fourth time (council has passed a motion to update the register)."
The significance of many buildings was missed when the inventory was compiled in the 1980s.
"Inventory work was being done about 30 years ago — it commenced about 1983, and in 1986 it was adopted, at the time of the city's centennial," said Luxton.
"That's a fifth of the life of the city ago — that's a long time. The buildings have aged, and we have entirely different parameters for what we consider heritage now. It's not so much focused on buildings and structures as it once was.
"We think a lot about context, and neighbourhoods, even intangible heritage. These are things we're talking about worldwide, and Vancouver is not recognizing those trends in its current heritage register. It just hasn't been updated."
Meggs said the action plan was spurred by Coun. Heather Deal.
"In May, Heather asked for a series of actions to really step up protection of heritage," said Meggs. "This is an across-the-board proposal for short- and long-term action that will achieve a lot of those objectives.
"It will provide protection in various areas, including character homes in areas that don't have protection now or where there's sort of perverse incentives to take them down."
Meggs acknowledged the loss of older character homes has upset many Vancouverites. Last year, a small house at 502 Alexander was demolished for social housing, even though it was built in 1888, which made it the second-oldest house in Vancouver.
"We get a lot of mail on this from people, particularly on the west side, where (smaller character) homes are being demolished and replaced with larger homes," he said.
"We don't get those calls from other neighbourhoods. That's partly because, according to a staff report, certain neighbourhoods have better protection that eliminated the incentive to tear down. In other words, it's more of a wash financially, and it encourages people to protect the existing building." (Mackie, http://www.vancouversun.com/Vancouver+plans+action+historic+buildings/9225670/story.html)
The fears of our heritage experts and the evidence from past events are all the more reason to show your support for the plan by contacting city council, registering to speak at the meeting and/or attending it. Please follow the links below to read the full report and to contact city council. Time is not on our side as the number of our heritage buildings being demolished is increasing every year.
Read the report here: http://former.vancouver.ca/ctyclerk/cclerk/20131204/documents/ptec8.pdf
If you would like to write to city council, you can address your support and concerns to: [email protected]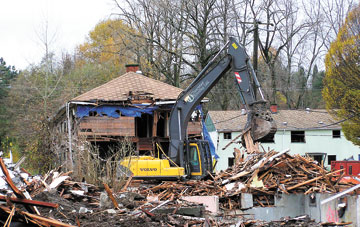 ---